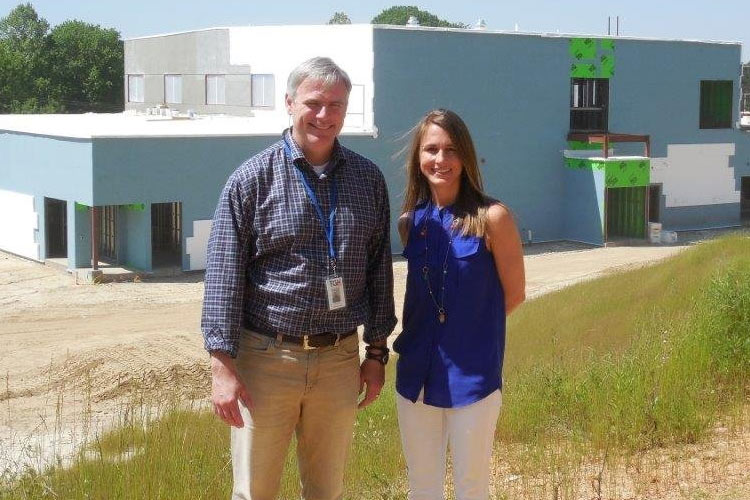 From left, Tallahatchie General Hospital administrator Jim Blackwood and Dr. Catherine Woodyard stand in front of the new Tallahatchie Wellness Center.
Three years ago, University of Mississippi alum Dr. Catherine Woodyard sparked a change for Charleston, a town afflicted by high rates of chronic diseases including obesity, hypertension and diabetes.
As a doctoral student at the University of Mississippi, Woodyard conducted a comprehensive health needs assessment for Charleston as her dissertation project with the intention of identifying priority health concerns and needs as well as to identify strengths of the community and existing organizations and resources that could be used to enhance health in the community. The results of the assessment were subsequently used to obtain external funding for projects and resources to improve the health status of the community. Following the assessment, and based on identified needs, Woodyard and Tallahatchie General Hospital (TGH) administrator, Jim Blackwood wrote a grant that secured over $2 million from the James Cox Kennedy Foundation for the construction of a community health and wellness center. The projected completion date for the wellness center is November of this year.
What led her to achieve so much for Charleston? "Well, this is a hard one to answer," Dr. Woodyard said. "So many people and things had a role and were an inspiration to me. I would say first and foremost, Dr. Meek was instrumental in this project as he was the one who initially told me about Charleston and invited me to come with him to Charleston to speak with community members which ultimately led me to realizing, before we can do anything, we need to hear from the people and conduct a needs assessment."
She said the needs assessment was her first step to understanding the community so she asked people face-to-face in interviews and focus groups what they felt they needed. Dr. Woodyard recalled reading a book, When Helping Hurts, where she learned this: "How will you ever know what the people need if you do not ask them?" This was also instrumental in gaining community trust, participation and engagement.