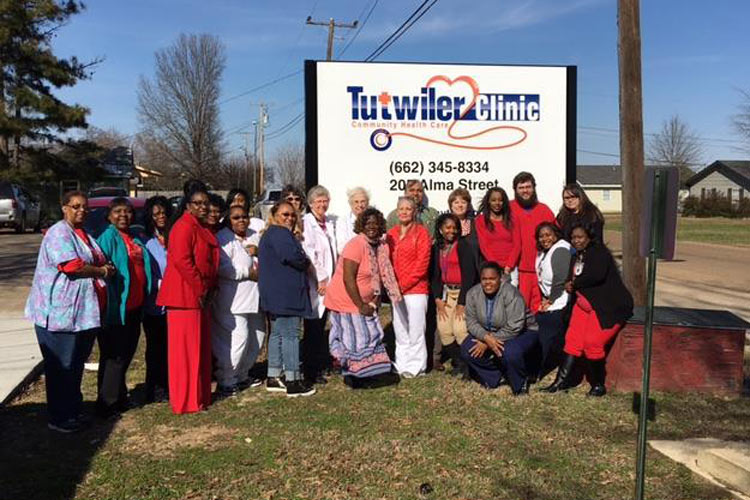 Tallahatchie General Hospital's recent acquisition of the Tutwiler Clinic offers hope that the clinic will be able to continue its mission far into the future, according to Dr. Anne Brooks.
Brooks, 78, was one of the founders of the Tutwiler Clinic in August 1983.
At that time, she and three fellow Roman Catholic nuns from the Sisters of the Holy Names of Jesus and Mary (SNJM) received permission from town officials to reopen a clinic facility that had been shuttered for a decade.
Initially, the clinic was sponsored, in part, by SNJM's New York Province.  Since 2006, it has been an incorporated ministry of SNJM's U.S.-Ontario Province.
Over the years, the clinic's clientele has grown. The building has been enlarged four times. The clinic today has about 30 employees.
However, Brooks is the only living member of the original four founders, which recently got her to thinking.
"We've been here over 33 years. As time has gone by, doggone it, we've aged," she said, half jokingly.  "The thing that we realized is, we're not going to be able to do this forever, and we certainly want the clinic to continue."
With that thought in mind, Brooks, clinic coordinator Sister Cora Lee Middleton and members of the clinic board began putting out feelers in early 2016 to gauge whether there was any interest in an area hospital taking Tutwiler Clinic under its wing.
"We wandered around and made at least 10 connections," said Brooks. "Most of the people were very eager and willing to help, but for whatever reason — distance, financials, etc. — it just wasn't a good fit."
Brooks recalled a lunch meeting she had with officials affiliated with Tallahatchie General Hospital.
"They were very positive, very helpful and offered very big ideas about what we can do together. That was exciting," she noted.  "And then we met with [TGH Executive Director] Jim Blackwood. It just seemed like it felt right."
She said staff from her clinic toured the Charleston hospital, and vice versa, and discussions continued from there.
"For the Tutwiler Clinic's part, they were interested in securing a succession plan to continue the work that has been done there over the last 30 years," said Blackwood.  "For our part, we were interested in having a rural health clinic presence on the west side of the county."
Blackwood said the TGH team did "its due diligence to see if the operation of the facility as a provider-based rural health clinic was feasible" and concluded that it was, as long as processes could be put in place to improve the revenue being generated by patients.
"Part of that effort included placing resources in the clinic that could help qualifying patients access programs such as Medicare, Medicaid or other insurance sources which they simply had not been able to do, perhaps due to literacy barriers," he noted.
National publicity from such well-known media outlets as People magazine and the CBS-TV news program, "60 Minutes," has helped drive donors to support the Tutwiler Clinic's work of serving poor and uninsured patients in the delta.
Blackwood said it is important to maintain that outside donor support that Tutwiler Clinic has come to rely upon.
In addition, he said the Tallahatchie County Medical Foundation has established a "Tutwiler Clinic Fund," where donations may be placed on deposit to pay for indigent care at Tutwiler.
After the TGH acquisition of Tutwiler Clinic was finalized Nov. 1, the transition was "smooth," noted Frankie Tartt, who heads up clinic operations for TGH, which also includes rural health clinics in Charleston and Holcomb.
"The care that Tutwiler Clinic has provided for that community and surrounding areas will continue — but now as part of Tallahatchie General Hospital," said Tartt. "You will see the same wonderful smiling faces at Tutwiler Clinic that you have in the past."
Tartt said the Tutwiler Clinic has three full-time medical providers and one-part-time provider.  Brooks will continue to practice there, is serving as the medical director and is the collaborating physician for two nurse practitioners there.
"They are open from 8 a.m. until 5 p.m. Monday through Friday and do not close for lunch," Tartt noted.  "There is always a provider in the building to treat patients. Patients can still be seen by appointment, but walk-ins are welcome from 8 a.m. until 5 p.m."
Blackwood said, "It has been a pleasure working with everyone in the Tutwiler Clinic during this transition.  Everyone has come together and worked together as a team. They are welcome additions to our TGH family."
Brooks used glowing terms to speak of TGH, noting that repairs and enhancements to the clinic building "have been profound." The clinic is being converted to TGH's electronic health record system, as well.
"There are just so many improvements, I can hardly list them all," she said. "I'm very excited about it. Our staff is very excited. The hope that we have to continue what the clinic has been doing is solid. I'm very, very thrilled."
Article Written by CLAY McFERRIN – The Sun-Sentinel
Clay McFerrin is editor and publisher of The Sun-Sentinel, located in Charleston, Mississippi.