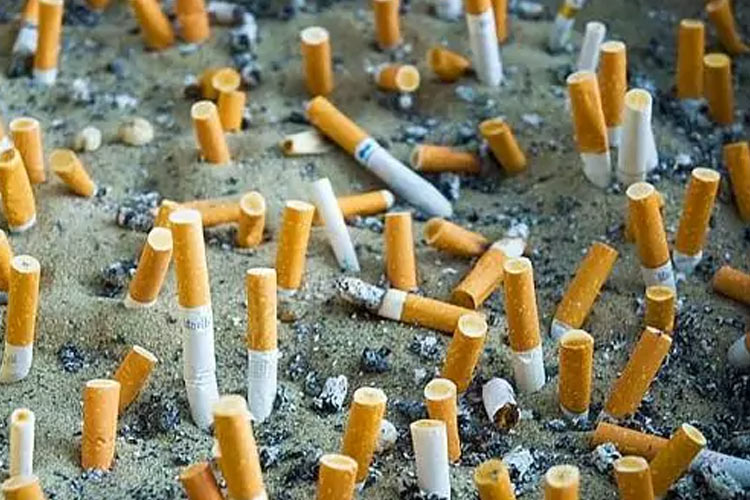 Quitting smoking is a daunting proposition, but a new program at Charleston Clinic offers smokers specialized tools to enhance their chances — all at little or no cost to them.
"Nicotine is a very addictive drug," said the clinic's Dr. Rob Carter. "We're finding out more and more the different receptors that it acts on in the brain. It's very addictive."
Because of the fierce hold that the nicotine in tobacco has on smokers, the chances of a frequent user being able to kick the habit without assistance are not very good, explained Carter.
"Folks who try to stop cold turkey have less than a 10 percent chance of being able to do it on their own," he noted.
Over-the-counter aids like nicotine gum and low-dose nicotine patches worn on the skin also have limited effectiveness, the doctor said, stating that "nicotine replacement therapy has about a 12 percent success rate."
As a Blue Cross Blue Shield of Mississippi certified provider for smoking cessation, Carter is able to offer the very latest medical therapies to greatly tilt the scales in the patient's favor.
Better still, Charleston Clinic's smoking cessation program is available free to Blue Cross Blue Shield of Mississippi customers.
"This means that patients with Blue Cross Blue Shield of Mississippi insurance can come see me for a copay-free visit," said Carter. "Blue Cross Blue Shield will cover the cost of the visit 100 percent. Then, whatever therapy I prescribe for smoking cessation will also be copay-free."
In addition to the aforementioned gums and patches, several medications are available to help curb the cravings for nicotine, and some of them can be quite pricey.
"There's one medicine called Wellbutrin that's not all that expensive, but the latest and greatest medicine is something called Chantix, and it is very expensive," Carter stated. "Most insurances regularly do not cover it, and it can be as much as $230 a month."
However, under Charleston Clinic's smoking cessation program, Blue Cross Blue Shield of Mississippi will cover 100 percent of the cost of any prescribed medication.
Chantix, in particular, has produced better outcomes for smokers trying to quit.
"You have a 40 percent chance of quitting smoking completely taking Chantix," said Carter. "That doesn't sound like a lot, but it's better than twice as good as anything else we have going."
The doctor said several pathways of treatment can be followed in the smoking cessation program, but there are certain limitations.
"If we do nicotine replacement, whether it's gum or patches or whatever, you cannot do the Chantix as well," he explained. "The Chantix is something used all by itself."
Carter said Blue Cross Blue Shield initially will pay for up to three months of Chantix.
At the end of that term, he noted, "you can come in for a follow-up visit which, again, Blue Cross will cover at 100 percent, and they will pay for one more month of Chantix."
Program open to all
One point Carter stressed is that the smoking cessation program is open to anyone who wishes to participate.
"If someone doesn't have Blue Cross, you can still come see me for a smoking cessation visit," he noted. "Unfortunately, most insurances will just cover it as a regular visit, so there will be a regular copay. If you normally don't have a copay, then that wouldn't apply. But besides Blue Cross Blue Shield, most insurances will not pay for the medications for smoking cessation."
Medicare and Medicaid will charge a smoking cessation session as a regular visit, Carter explained.
"If you have two different types of insurances, you usually won't have a copay and it will just be billed to your insurance, whether it's Medicare, Medicaid or both, at the usual rate and the patient would not know it was any different than a regular visit," he said. "But I have not found that many Medicare drug plans cover Chantix, and I'm just about positive Medicaid does not."
Anyone with questions about their coverage for smoking cessation programs is encouraged to check with their insurance provider.
Initial consultation
Carter said the initial visit for smoking cessation features a general wellness check.
"When you're checked in, we do basic vital signs, and I do perform a basic physical exam to make sure the heart and lungs sound good and there's no swelling," he noted. "If I feel like there's something more going on, then we can do a chest X-ray and things like that."
One more advantage that Blue Cross Blue Shield offers is that the initial smoking cessation visit does not have to be expressly labeled as such to be fully covered.
"So, if an individual came in for a regular checkup about hypertension and diabetes and said, 'Oh, by the way, I would like to participate in the smoking cessation program,' we can do that at the same time," said Carter. "The hypertension and diabetes part would still be subject to a copay, but there would be no additional charge for the smoking cessation."
During the first visit about quitting smoking, Carter said he gathers some personal information to aid in counseling and potential behavior modification therapies.
"We will discuss the barriers the patient has had in the past quitting smoking," he noted. "Addressing the barriers to being able to quit is probably the most important thing that we do."
The doctor said it is important to understand the mindset that has led the person to seek professional help with their smoking addiction.
"Most of the time, by the time a patient comes in for a smoking cessation visit, they're not just, 'Well, maybe I need to quit.' Something has happened and they are, 'I'm tired of it. I'm going to do it this time.' There's usually some sort of an impetus to quit, whether it's recent illness or they've seen somebody — family or friend — have a significant complication due to smoking."
On occasion, the prompting comes from a well-meaning, even loving, slap in the face.
"I had one patient have a grandchild approach her and say, 'When are you going to quit smoking that poison, Grandma?'" Carter noted. "That will get your attention pretty quickly."
The monetary costs of smoking and the potential savings of stopping, also are discussed on the initial visit.
"I ask the patient, 'How long have you been smoking? How many packs a day? How much does your pack of cigarettes cost?' We do the math, and I show them how much he or she has spent on cigarettes. That's an aha moment."
Getting started
Anyone wishing to take part in the smoking cessation program at Charleston Clinic will need to see Dr. Carter.
"Unfortunately, Blue Cross' rules will not allow a nurse practitioner to be certified in smoking cessation, so, here, it has to be me," he said. "I would prefer patients schedule an appointment for smoking cessation so I will be here at that time."
Carter said his office hours at the clinic are 8-12 and 2-5 on Monday, Tuesday, Wednesday and Friday, except when other responsibilities arise at Tallahatchie General Hospital and Extended Care Facility.
To schedule a smoking cessation appointment with Dr. Carter, call 647-8000.
By CLAY McFERRIN: Sun-Sentinel Editor
This story is reprinted with permission from the July 2, 2015, edition of The Sun-Sentinel.