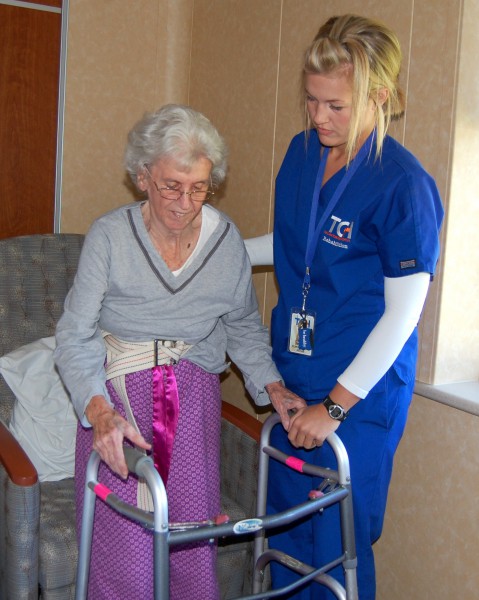 The goal of the Swingbed rehabilitation program at Tallahatchie General Hosptial is to maximize your recovery. Our expert medical rehabilitation team is committed to helping you return to as active and productive a life as possible.
Each person's program is tailored to meet his or her needs by integrating appropriate specialty services as needed with several different disciplines. The Integrated Approach is listed below:
Integrated Approach
Physical therapy (PT) addresses physical deficits from traumatic injuries, repetitive motions or chronic conditions. Physical therapy includes exercise to restore or improve range of motion, muscle strength, posture alignment, breathing patterns, circulation, balance, coordination and endurance. During physical therapy, you will learn to use ambulation equipment if indicated, such as canes, walkers, braces and artificial limbs, and you will be instructed on proper walking techniques.
Occupational Therapy (OT) assists you in becoming as independent as possible with your daily activities. These may include dressing, personal hygiene, feeding yourself, getting around your home and community and pursuit of household, work-related or leisure activities. Occupational therapists assist patients and their caregivers in learning how to do familiar tasks in a new way and help make the transition back home and into the community as smooth as possible.
Speech and Language Therapy (ST) helps restore speech clarity and improve cognitive functioning, problem solving and memory skills. Appropriate therapeutic interventions are utilized to help patients regain the ability to express and understand wants and needs at simple to complex levels. In addition, speech-language pathologists assist individuals with swallowing disorders to safely eat foods and drink liquids.
Social Workers help you deal with the social, financial, emotional and practical aspects of your condition. They will arrange for your family to observe your therapy and will locate health care resources in your community to help you and your family prepare for discharge.
Our goal is to help patients recover and regain mobility and function lost to strokes, hip fractures, amputations, multiple trauma/fractures, some total joint replacements, neurological disorders, arthritis, and other debilitating conditions.
For more information, to make a referral, or to arrange for a tour, please call: (662) 647-8000.
The Rehabilitation Process
The rehabilitation process is a combination of pre-screening, assessment, treatment, education and follow-up care. It focuses on the emotional as well as the physical needs of the patient and family.
Pre-Admission Screening – Patients can be admitted to the Swingbed program from a home, a hospital or other type of facility following an acute Medicare 3 day hospital stay or within 30 days of that approved acute stay. Every potential patient is screened by a member of the rehabilitation team to determine if his or her condition may benefit from a comprehensive rehabilitation program. There is no charge for this screening. The Medical Director is responsible for authorizing a patient's admission to the program.
Assessment – Upon receiving M.D. orders for rehabilitation, each patient receives a comprehensive evaluation that takes into consideration his or her medical history and lifestyle. The results of this evaluation, along with the patient's personal goals, are used to create an individual treatment plan.
Treatment – Treatment may focus on ambulation, muscle strengthening and coordination, use of adaptive equipment, independent living skills, cognitive and communicative skills.
Education – Education is incorporated into every patient's treatment plan. Areas commonly addressed include joint protection, fall prevention, pain management and other vital techniques. An evaluation of the patient's home is available to identify potential risks. Family members are also educated on ways they can assist with their loved one's care and how to access community resources and support groups.
Care Plan Meetings – One time per week, the swingbed healthcare team will meet with the patient and/or designated caregivers to discuss the medical plan of care and any discharge needs. Present at these meetings may include: medical director, swingbed case manager(s), social worker, member of the rehab team, dietician, etc.