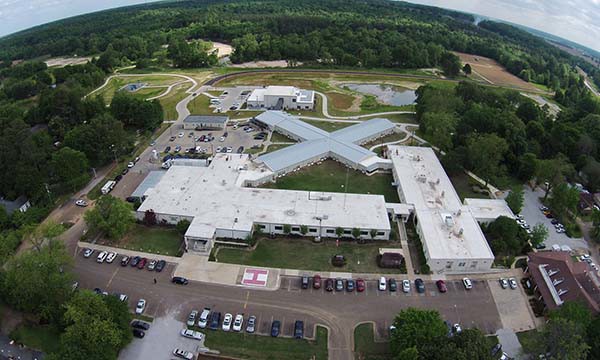 Tallahatchie General Hospital's Mission Statement
"The mission of Tallahatchie General Hospital is to provide high quality, caring and cost effective services; to inspire staff to exceed the expectations of our patient and their families; achieve financial results to ensure its continued success, and to continually improve our care and the services we provide."
In 1937 the Tallahatchie County Board of Supervisors established the Tallahatchie County Hospital, which was purchased from Dr. Paul Googe. The current facility was built and opened in 1957 to serve the medical needs of the community. When the hospital opened up it had 35 acute rooms and a performed many surgeries and delivered many of the residents of Tallahatchie County.
In 1969 the hospital made a bold move and ventured into the new market of offering long term care to the residents of Tallahatchie County by opening up 40 nursing home rooms. This venue proved to be a success as the nursing home filled quickly and residents of the county often had to wait to come to the nursing home. Over the years the hospital rooms decreased and the nursing home rooms increased. In 2009 the hospital received permission to increase the nursing home to its present 98 beds.
As the years passed and the healthcare environment changed, there was a need for increased expertise in the healthcare field. In an offensive move Sunflower CAH Management Group was retained by the Board of Trustees. This bold move proved to be worthwhile as the hospital grew in services, more modern equipment was obtained, and the existing hospital rooms were renovated making them state of the art. Emphasis on customer service and quality healthcare became the motto and mindset of all the staff at Tallahatchie General Hospital.
Services added to expand our reach to our patients has been: James C. Kennedy Wellness Center (with a playground, community garden, health fairs & programming for the community), Wound Care Services, Cardiology Services, Nuclear Stress Testing, Lymphedema Therapy, expanded Outpatient & Inpatient Rehabilitation Services, The Horizon (an Outpatient Behavioral Health Program), Holcomb Clinic and Tutwiler Clinic."
Tallahatchie General Hospital is dedicated to our community and envisions a bright future for our organization. Come visit our campus and let us make Our TGH Your TGH!